Industrial purpose
The polyurethane fenders of Poly Marine have been designed for intensive industrial shipping purposes, from work barge, pilot boat, quay protection, buoys and tugs to wind turbine survey vessels. They have been developed with durability in mind. This durability is achieved by making use of the best quality of polyurethane available in the industry and through optimum design. This makes our fenders lighter than traditional rubber fenders with better energy absorption and much higher wear resistance.
Our polyurethane fenders are five times more wear resistant than conventional rubber fenders. Waves of up to five metres can sometimes make it very difficult for maintenance teams to approach wind farms.
Our fenders however make it possible to stay moored alongside the turbine without compromising the fenders. The crew can safely disembark and embark.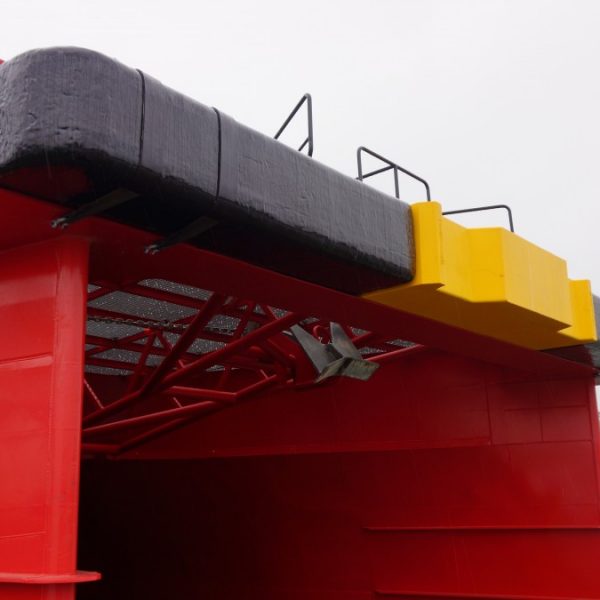 Key aspects of our designs
Ultra-strong

Tensile strength as high as 500%
Very high compressive strength capabilities

Light weight

Different hardness of polyurethane
Combination construction with foam

Energy absorption

Fender size is a very important aspect here.
Various degrees of thickness of polyurethane fender.
Different foam types HD and LD

Extremely durable

Ultimate resistance to wear through the material proportions of the polyurethane. Our polyurethane compound "SHA90" is a wonderful example of this and is used on quays/ fenders, mooring dolphins and locks.

Buoyancy

Combination of ultrathin polyurethane products and LD foam kinds can be used. An example of this are the Crew Tenders of the KRVE which have a C600 fender and LD18 foam.
Contact us for more information about our products
or to find out if our fender systems are suitable for your vessel.